Earth-Cycling
The biggest way that GREAT Sorts reduce landfill waste is to EARTH-CYCLE food scraps and garden waste into compost at home or, in some areas, through your kerbside bins.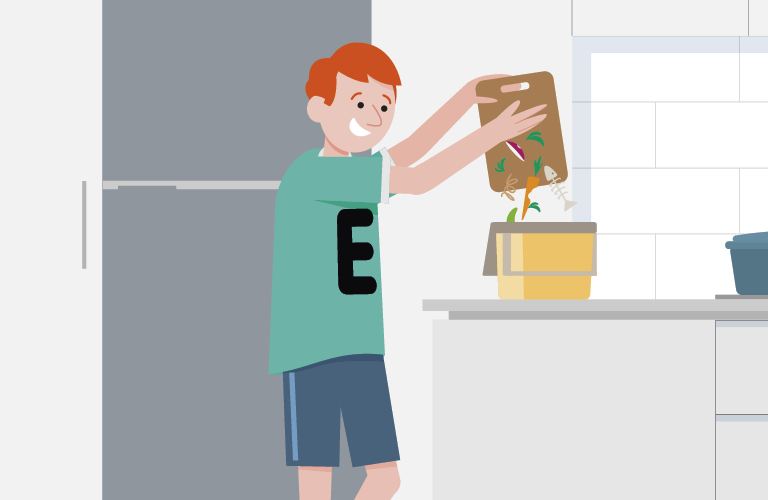 It's easy to avoid sending food scraps and garden prunings to the landfill bin, where they don't belong, by joining the backyard revolution of people composting at home. Your choices include traditional composting, worm farming or bokashi. Find out more in the beginner's guide to composting.
Many local governments are also moving towards providing FOGO (food organics and garden organics) in their kerbside collections. Many provide GO (garden organics) kerbside collections.
WasteSorted ways
Whether you home compost or use a FOGO bin, the solution starts in the kitchen. Most people find it easy to set up a kitchen caddy for collecting food scraps. GREAT Sorts use things such as an old ice-cream container, little bin or purpose-made caddy. Ways to keep the container fresh include:
lining it with newspaper
using a certified compostable liner
simply rinsing the container
keeping the container in the fridge or freezer until FOGO bin day or your trip to your compost bin
Earth-cycling – better than the landfill bin
Composting is nature's way of recycling – it's the process of turning natural scraps (think food scraps, leaves and paper) into nutrient-rich compost which will help your garden and soil thrive.
By composting at home or using the FOGO bin, GREAT Sorts significantly reduce the amount of waste they send to landfill. About 50 per cent of a typical household's general waste each week is made up of organic materials such as food scraps and garden waste. If organic material is sent to landfill, it produces methane gas.
Sometimes it takes a community
Even if you do not have the time or space to compost at home, you can still give your food waste a second chance with ShareWaste – a local collective that connects people who wish to recycle their kitchen scraps with their neighbours who are already composting, worm farming or keeping chickens. People can either donate or receive organic waste to be transformed into nutrient-rich soil.
Giving food scraps a second go with FOGO
FOGO – or food organics and garden organics – is the term often used when referring to a three-bin system where any waste that once lived (such as food scraps and garden waste) is diverted from landfill and processed to make soil enrichers and compost for use in parks, gardens and in agriculture.
It is an effective approach to waste management in Western Australia that diverts large volumes of food waste. FOGO goes a step further than the 'garden organics' or 'green waste' bin that some local governments have offered their residents over the past decade.
The FOGO bin, with its lime-green lid, is supplied by participating local governments to their residents, together with a yellow-lidded recycling bin and a smaller red-lidded bin for general waste. The FOGO bin is typically collected each week, while recycling and general waste bins are collected on alternate weeks.
Transcript - What is FOGO?
The below text is a transcript of the video "So What is FOGO?".
[a rubbish truck collects rubbish from lime green-lidded FOGO bin.]
Hello my name is Jai Pearce and I'm from the Bunbury-Harvey regional council and I'm the supervisor here at the organics processing facility. [Man speaking, followed by aerial view of the organics processing plant where several large piles of compost can be seen]
So what is FOGO? Food organics and Garden organics that's collected from your garden at home or commercial businesses that can go into your lime green, organics bin [A woman in her kitchen places organic waste into a compostable bench-top bin. The same woman is then seen pruning a hedge outside
So I'd just like to run you through the process. At home your food scraps and garden waste will be placed in your bin and then put out onto your verge. [The woman is seen depositing a compostable bin bag, then garden waste in the FOGO bin before moving it to the verge, where a truck later collects it.]
Once the truck's full it comes to the composting facility where it's tipped onto Stage Zero onto aerators and stockpiled up to one month. [Truck unloads organic waste into a pile at the composting facility, we then see an aerator running large pipes into several piles of organic waste.]
After that one month, the compost is then moved via loader so it helps the microbes activate which then help break down the compost and starts the process. As part of the Australian Standards, the loader then picks up the compost and rolls it five times. This helps the product to be pasteurised. The pasteurisation stage kills all the weeds and seeds and makes it safe for you back to use it back at home or in a commercial environment. [A loader is shown moving a pile of compost, we then see a sprinkler watering piles of compost.
The next stage is to screen the compost to get rid of all the contaminants like plastic, glass, toasters and all those unwanted items that we receive from your bins. [We see a machine with a conveyer belt, compost is falling off the end of the belt, suggesting that contaminates have been captured by the machine.]
The compost is then mature and ready for testing to the Australian Standards and the Australian Organics Certification. The product then is ready for sale and is ready for use. [Shots of compost followed by a man walking over to a large pile of compost and picking up a handful in both hands.]
So what can you do to help us at the organics facility? [The man tips the compost from his hands back into the pile.]
Please don't put any plastic, glass or unwanted non-organics into your bin. Either select the yellow top bin or the red-top bin for those items. [A pile of compost with contaminants in it is shown.]
Thank you.
---
So what goes in a FOGO bin?
One way to think about it is: "If it didn't grow, or it wasn't alive it's not FOGO!"
All of your food scraps can go in the FOGO bin, including fruit, vegetables, bread, meat, bones and leftovers. So can grass clippings, flowers, weeds, herbs, small branches and leaves.
FOGO bin contents will be composted, so you can also put small amounts of paper and cardboard in (such as used kitchen paper towels and pizza boxes with food residue). It is essential to keep all plastic, aluminium, glass and anything labelled 'biodegradable' out of the FOGO bin.
Where does FOGO Go?
The contents of FOGO bins are transported to a waste composting facility where it is turned into soil conditioner or compost.
How is FOGO different to my home compost?
Although it can differ between local government areas, most FOGO bins accept items which are not usually compatible with home composting systems, such as citrus, onions, bones, meat and seafood.
Food becomes compost
Be a GREAT Sort! Compost your food scraps and garden waste at home, or through your lime green FOGO bin if you have one.