Avoid
Some items can't be recovered using gifting, recycling, Earth-cycling or taking to specialist drop-offs, but we can still do better than landfill by AVOIDING these items in the first place!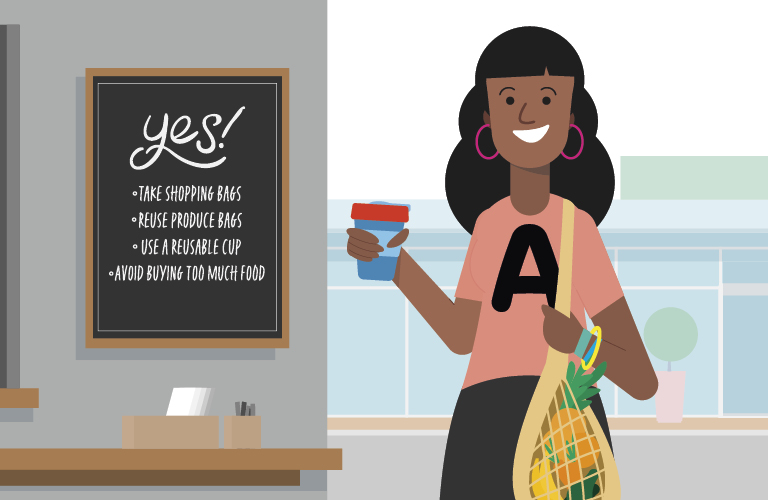 WasteSorted ways
A lot of people are already making the swap from disposable and single use items to sustainable and reusable alternatives. People who are GREAT at Avoiding set themselves up before they leave the house with things like a:
shopping list (with low-packaged items in mind)
reusable shopping bag
reusable container to use at the butcher, bakery and takeaway shops
reusable coffee cup ready to choose to refuse a disposable coffee cup
'spork' (a handy little knife, fork and spoon all in one)
Alternatives to plastic food wrap
There are many alternatives to plastic food wrap, including switching to glass, stainless or reusable plastic containers to store food, and alternatives such as beeswax wraps for sealing food.
Choosing to refuse bottled water
Taking your own reusable bottle filled with tap water reduces waste and saves money.
Staying away from disposable straws, plates, cups and cutlery
Many people keep reusables in a bag or glove box, or choose dining-in instead. GREAT Sort party hosts borrow items from friends or neighbours if they do not have enough plates or cutlery for an event.
Food is too good to waste
Avoiding food waste starts at home with a quick check through the fridge, freezer and pantry before shopping to avoid doubling up on items you already have or can use as substitutes. Sticking to the grocery list, and avoiding those 'specials' or 'two-for-one' offers is the secret to low-waste food.
Ways that GREAT Sorts reduce food waste include:
planning meals for the week – including a leftovers night
saving leftovers in individual portions and packing them for healthy, waste-free lunches
being creative in the kitchen and using up available ingredients in a quick quiche, pasta, pizza, soup, stir-fry or toasted sandwich
freezing food if it is close to its 'use by' date to save it for later
storing high-waste items such as bread and even milk in the freezer to use when needed
Unavoidable food scraps, such as peelings, tea leaves and coffee grounds, are easily turned into compost – your garden will thank you for it!
Avoiding packaged produce
Avoiding landfill waste can be as simple as buying fruits and vegetables that are loose and not prepacked or wrapped in plastic, and avoiding other packaged foods where you can. More and more people are switching to farmers' markets and bulk food stores.
If you are shopping at a supermarket, think about each purchase – look for glass or cardboard- packaged alternatives as these materials are more likely than plastic to be reused and recycled.
Taking stock before you shop
Taking stock of what you already own is a great way to avoid a wardrobe crammed with too many clothes or a cupboard packed with too many plates.
When it is time for a change, many people try to think 'one-in, one-out', or undertake challenges such as Project 333.
Eliminate junk mail
A sign with 'no junk mail please' (or 'local newspaper paper only') is an effective way to show that you are choosing to refuse waste.
Fast fashion is frivolous
Resisting the urge to buy something because it is cheap or part of a multi-deal is a sure-fire way to save money, frustration and reduce clutter. GREAT Sorts reduce waste by:
choosing one good quality item in place of five low-priced options (especially useful for clothes that don't fall apart)
borrowing, renting or sharing one-off items such as tools, party decorations or books
buying second-hand or from charity shops to give new life to pre-loved items
upcycling old gear with a coat of paint or a sewing project
opting to repair instead of throw away

Challenge yourself to be a GREAT Sort

Millions of people take part in Plastic Free July, National Recycling Week, and a multitude of other initiatives to help make landfill the last resort.
Avoid excess packaging
Be a GREAT Sort! Refuse disposable cups, straws, containers and bags.