Gift items to charity, swap or sell
Unwanted, reusable things such as clothes and toys in good condition can be GIFTED to charity, swapped or sold. Virtually everything has a better place to go – we just all need to be GREAT Sorts and treat landfill as the last resort.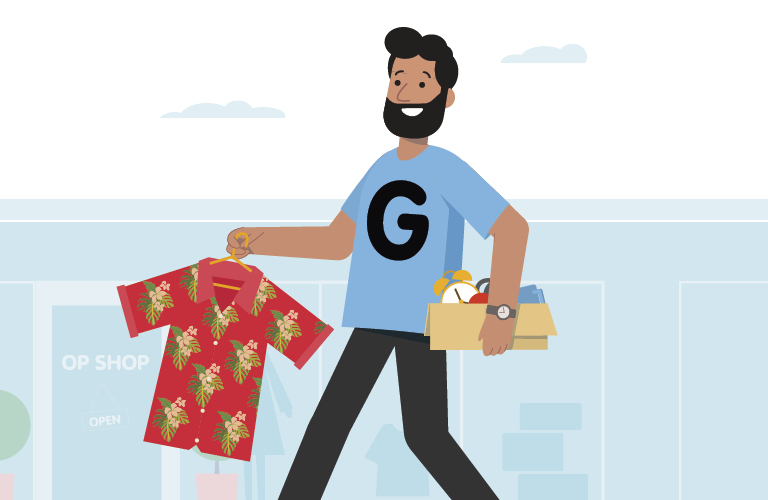 Good-quality items will find a second lease on life when you gift them to charity, neighbours, friends or family. Consider if you want to swap or sell reusable items on social media or online marketplaces too!
The WasteSorted way

GREAT Sorts who gift keep a cardboard box in the cupboard for collecting things that are too good to waste – making the charity shop stop an easy part of any trip into town.
Good things can be gifted
For a lot of people, gifting clothes and homewares to charities (op shops), neighbours, friends and family is a great way to ensure items are reused. Finding a new home for good-quality items keeps them out of landfill, helps people quickly get rid of things cluttering their lives, and gives us a warm and fuzzy feeling inside – win-win!
So what kind of items can I donate to charity?
Clothes in good condition will find a new life through local charity op shops. Many charities sell, recycle or send clothes to developing countries. Refuges for people in need, or animal shelters, can often give your reusable towels and other manchester an extended life.
Charity op shops welcome good-quality items that can be reused, such as clean clothes, shoes, bedding, towels, bric-a-brac, sporting goods, toys, books, furniture and other household items. If in doubt, give your local charity a call before you drop anything off.
As a rule of thumb, if an item is good enough to give to a friend, it's good enough to donate!
Where can I find my closest donation bin or charity store?
You can find your nearest charity store or donation bin at giv.org.au.
Note: If the donation bin is full, you can go into a store, call for home collection or try another bin. Items left on the ground cannot be resold and become litter and end up in landfill.
---
Swapping and selling
Swapping or selling items helps to find another purpose for the things you no longer want or need. Some people enjoy making money from a clear out, others prefer to offer things to a new home for free – there's an online platform to suit your choice.
After all, one person's trash is another person's treasure!
Selling your items
Online sites such as Gumtree and eBay may be the key to helping you save for that next family holiday or house renovation as well as reducing your waste generation. The annual Garage Sale Trail can be a great place to get started – it's easy to join in.
The swap economy
Lots of people are getting into the spirit of giving and sharing through local online communities such as Pay It Forward and Buy Nothing Facebook groups or Freecycle. These are platforms where people share, trade and swap goods within their local community – with the shared desire to build a strong community and reduce waste.
---
Items you can't regift
If your old clothes are damaged beyond repair, it's still possible to do better than the bin. Many people choose to compost clothing made from natural fibres (cotton, silk, hemp, bamboo, etc). Synthetic fibres such as polyester or nylon are popular for crafting into art pieces, beeswax food covers, reusable makeup wipes, and so much more!
Broken electrical goods also have value and can be taken to your nearest drop-off facility.
Be inspired!
It's easy to gift, swap or sell your preloved items … after all, your old items could be another person's treasure!