Gift items to charity, swap or sell
Unwanted, reusable things such as clothes and toys in good condition can be GIFTED to charity, swapped or sold. Virtually everything has a better place to go – we just all need to be GREAT Sorts and treat landfill as the last resort.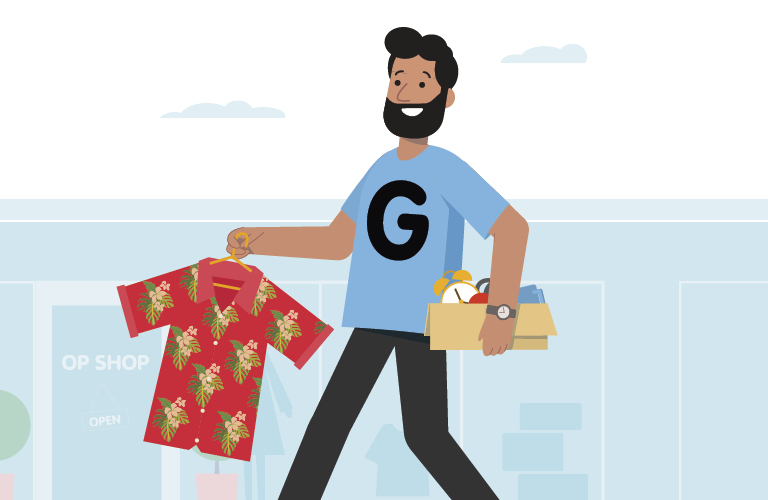 Gift only the good stuff
Charity op shops love good-quality items such as clean clothes, shoes, bedding, towels, bric-a-brac, sporting goods, toys, books, furniture and other household items.
It's important that gifted items are clean and not broken or stained, because charities can't fix broken things or wash clothes. A good rule is to ask yourself if you'd give it to a friend.
If in doubt, call your local charity before you drop anything off.
The WasteSorted way

GREAT Sorts who gift keep a cardboard box in the cupboard for collecting things that are too good to waste – making the charity shop stop an easy part of any trip into town.
Another good tip is to tie shoes together and box up the parts of toys and games to keep them together. Good quality usable items can have a new life and be enjoyed by someone else. This means charities can do lots of good things in the community.
Where can I find my closest donation bin or charity store?
You can find your nearest charity store or donation bin at charitablerecycling.org.au/find-op-shop.
Note: If the donation bin is full, you can go into a store, call for home collection or try another bin. Items left on the ground cannot be resold and become litter and end up in landfill.
---
Swapping and selling
GREAT Sorts swap or sell reusable items on social media or online marketplaces too! Swapping or selling items helps to find another purpose for the things you no longer want or need. Some people enjoy making money from a clear-out; others prefer to offer things to a new home for free – there's an online platform to suit your choice.
After all, one person's trash is another person's treasure!
Selling your items
Online sites such as Gumtree and eBay may be the key to helping you save for that next family holiday or house renovation as well as reducing your waste generation. The annual Garage Sale Trail can be a great place to get started – it's easy to join in.
The swap economy
Lots of people are getting into the spirit of giving and sharing through local online communities such as Pay It Forward and Buy Nothing Facebook groups, or Freecycle. These are platforms where people share, trade and swap goods within their local community – with the shared desire to build a strong community and reduce waste.
---
Items you can't gift
If your old clothes are damaged beyond repair, it's still possible to do better than the bin.
Some Australian fashion retailers collect unwanted clothes from all brands and in any condition. Clothing and textiles in poor condition are either recycled into cleaning rags or sent to a fabric fibre recycler to create new fabrics and products such as insulation for cars and the construction industry. Special donation collection bins can be found in their stores.
Broken electrical goods also have value and can be taken to your nearest drop-off facility.
Be inspired!
It's easy to gift, swap or sell your preloved items … after all, your old items could be another person's treasure!