Being a GREAT Sort by:
Diverting millions of litres of paint from landfill and waterways
Type: Not For Profit organisation
Based: Australia-wide (18 collection points in WA)
By 2021, Paintback aims to collect, divert, recycle and treat 45 million kilograms of unwanted paint and packaging from landfill. That's enough to fill 187,000 wheelie bins!
What was their motivation?
Did you know Australian's throw away around 7.3 million litres of unwanted paint every year?
In 2016 the leaders of the paint industry embarked on a journey to take responsibility for the large volumes of paint and packagingentering landfill and established a collection network and treatment process for both trade and DIY painters.
The result was Paintback. This world-first initiative collects unwanted paint tins from householders and professional painters via dedicated drop-off points then uses the leftover paint as an energy source and recycles the empty tubs and tins. Pretty clever stuff!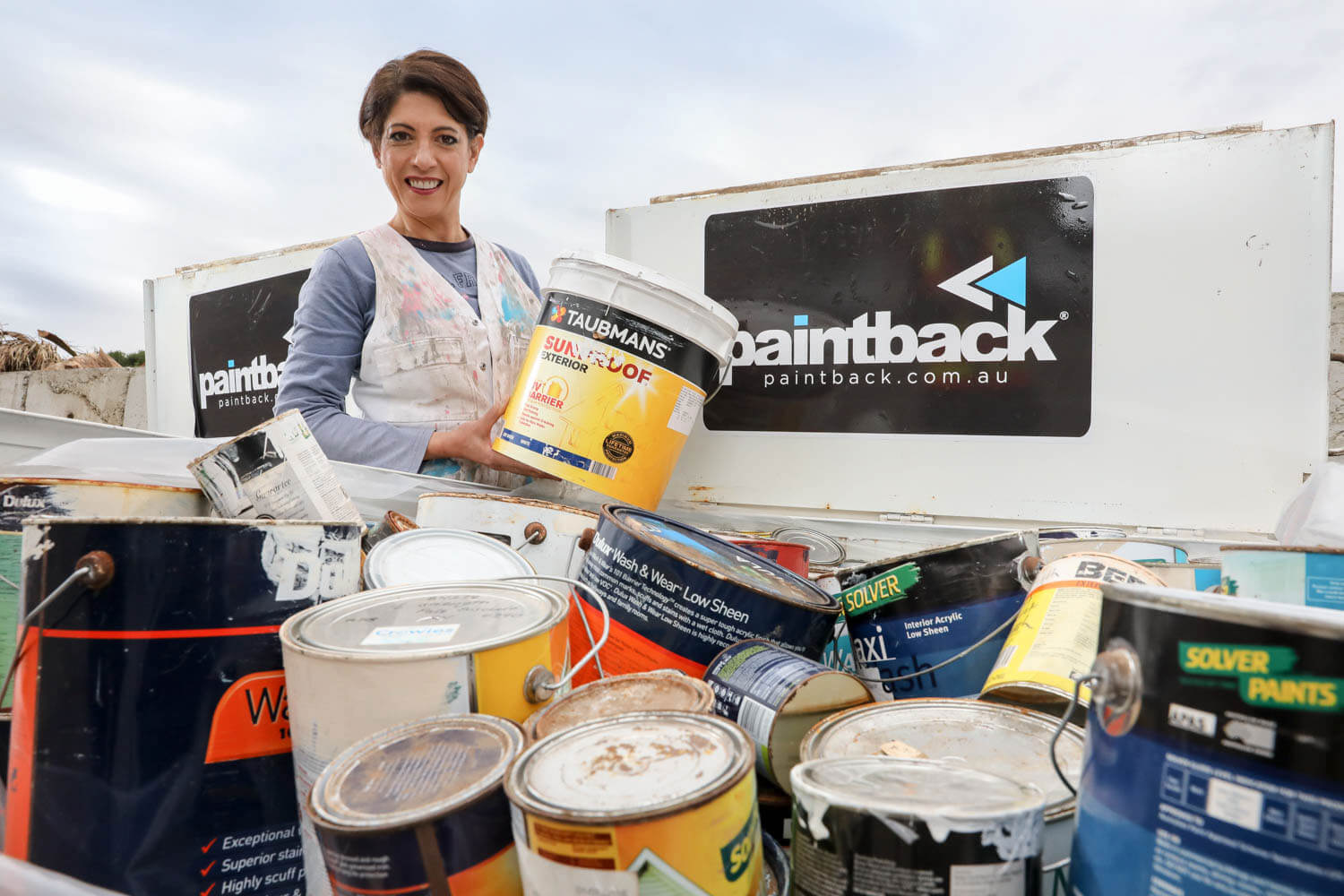 What are they doing?
Paintback collects unwanted paint. The 18 WA drop-off points will accept up to 100L per person, per visit!
They process it. Paintback's liquid treatment facilities sort water-based and oil-based paints as well as separating the tins and tubs it comes in.
They recycle. Once the paint is extracted, tubs and tins are recycled, ensuring resources aren't lost to landfill.
They treat it. Water-based paints are treated and reused as compost feedstock and as greywater in industrial processes – a better alternative to freshwater!
They reuse it. Oil-based paints used as an alternative energy source to power some of Australia's largest manufacturers.
Transcript - What is Paintback
The below text is a transcript of the video "Cleanaway & Paintback Animation".
[Voiceover]
At Cleanaway we see a bright future for waste paint.
In Australia millions of litres go to waste every year - enough to fill around 187,000 wheelie bins or coat the Sydney Harbour Bridge 166 times. In fact it's one of the biggest sources of liquid waste in our landfills.
That's why we're proud to support Paintback. It's a world first scheme that makes it easier for people to do the right thing and keep paint out of landfill so it can be transformed into a valuable resource.
***
Step 1 – Collection
Paintback have Cleanaway and council drop off points in every state and territory across the country.
More sites are continually being added, giving trade painters and the public convenient places to dispose of their waste paint. Up to 100 litres of eligible products can be dropped off per visit.
Step 2 – Processing
Once collected, the paint is transferred to one of Cleanaway's liquid treatment plants where it's sorted into water and oil base types, and extracted from tins using specialist equipment.
Step 3 - Re-use
Plastic and metal packaging is sent for recycling, ready to be transformed into new products.
Water-based paints are treated and recycled through our treatment plants.
The treated by-product is used as a composting feedstock as well as a substitute for fresh water in industrial applications.
Oil based paints are processed to provide an alternate source of energy to Australia's largest manufacturers.
These are some of the ways to turn waste paint into something extraordinary.
***
Over the next five years Cleanaway and Paintback are aiming to collect more than 45,000 tonnes of waste paint reducing significant quantities of landfill; repurposing thousands of tonnes of material into new products; and creating resources to power vital industries in our communities.
Cleanaway is proud to be supporting Paintback and working hand-in-hand with trade painters, Australia households and industry in making a sustainable future possible.
[END]
What impact is Paintback making?
> 1 million kilograms of paint and packaging has been saved from landfill in WA in just 2 years (and nationally it's around 9 million kilograms)!
It's saving WA local councils and shires money – the Paintback scheme, supported by a levy, funds the collection and treatment of all unwanted paint and packaging.
What does the future hold for Paintback?
By 2022 Paintback aims for 85% of Australian households to be located within 20km of a collection site and to have recycled 45 million kilograms of unwanted paint.
Paintback is also investing in research and development to achieve 100% diversion from landfill for water-based paint and plastic packaging.
How can you get on board?
We all have leftover paint. It's time to venture into the shed or the back of the garage, take stock of what you don't need and deal with it responsibly.
Gather them up – Paintback accepts sealers, undercoats, varnishes and dried paint but not aerosols or resins – check their list of eligible household products before you leave home.
Visit one of the 18 permanent WA collection sites (including those in, Broome, Port Hedland, Karratha, Kalgoorlie and across the South West) or one of the mobile collection events run in partnership with some local councils.