Being a GREAT Sort by:
giving unwanted fruit and veg a second life
Type: Small business owner
Based: Carnarvon
"I noticed the 'waste' – the fresh produce we had nurtured, picked, washed... and then thrown out because it wasn't perfect. It didn't seem to be a fair result for all the hard work that had gone into producing it. I knew I had to do something."

Jo Bumbak, fruit and veg rescuer
Inspired by nature, to preserve nature
The Bumbaks have been growing fresh produce in Carnarvon for more than 60 years. From a young age Jo worked on the family farm before and after school and saw just how much of her family's harvest was considered unsaleable just because it didn't look perfect (wrong size, shape or colour, or had sunburn, a scratch or blemish).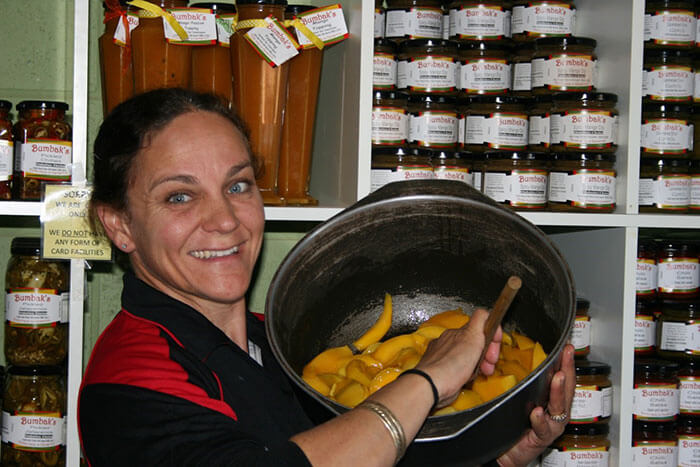 It was a bumper mango crop in 1999, resulting in an oversupply and downturn on prices, that was the catalyst for a venture that would see Joanne turning ugly and rejected product into highly desirable gourmet treats.
In 1999, during an oversupply of mangoes, one of Jo's customers traded fresh strawberries for a tray of mangoes so she decided to make a pot of mango and strawberry jam. Another customer, on smelling the jam cooking, promptly placed an order for a dozen jars. The seed had been sewn! Jo had found an exciting and profitable way to use up product that would otherwise be wasted and… get money for jam!
Did you know?
40-60% of all fresh produce grown is deemed waste product because it doesn't meet consumer demands.
What is she doing?
Rescuing produce from landfill. Jo buys second-grade or waste product from approx. 20 plantations and treats it with love and care to produce 140 types of homemade preserve, 12 varieties of ice-cream, dried fruits, frozen treats, baked goods, gourmet rocky-road and real fruit smoothies.
Helping plantations to share the story of waste and tap into the tourism market. Tourists flock to the region between April and October, with many keen to visit the plantations. Joanne encourages growers to showcase and sell their produce - even those items that would have historically been rejected by the shops - to visitors.
Constantly evolving product lines to meet consumer needs, and cut waste. She's constantly researching and exploring food trends like superfoods (introducing dragon fruit products was an instant hit), collaborating and, most importantly, creating tempting new flavour combinations that fly off the shelves and into appreciative tummies!
Listen to Jo talk about what she does to cut waste. Courtesy 6PR
What impact is she making?
40 tonnes of fruit and vegetables are rescued each year from landfill.
She's giving growers with an income for products that would otherwise be dumped – adding value for the horticultural industry.
She's established a local market for high-quality and innovative products has been created in Carnarvon – appealing to the tourism market.
Pulp that has been saved over time, measured in tonnes
What does the future hold for Jo?
While there's fruit and veg being dumped, Jo will continue to innovate and tackle the issue of waste, kilo by kilo.
With plans to keep growing the business, she's also committed to keeping a finger on the pulse of emerging food trends and working with local growers – both of which have proven to be a constant source of inspiration for new products.
How can YOU get on board?
They say it's what's on the inside that counts – and that's certainly true when it comes to fruit and veg! Instead of leaving the not-so-perfect products on the market shelves or tossing past-their-prime produce already in your kitchen into the compost, embrace the 'ugly' and 'old' and turn it into something delicious:
Overripe bananas can be made into banana bread, smoothies and much, much more
Gather up all the 'limp' veggies in the crisper and turn them into a soup or casserole
'Bubble and squeak' is an old-fashioned favourite making a return to dining tables (mix together cooked vegetables like carrots and peas with cabbage and mashed potato, form into patties and pan-fry until hot and crisp)
Got a glut of fruit or veggies from your garden? Channel your inner domestic diva and learn to make jams, jellies, coulis, sauces, chutneys, pickles, fermented foods (like sauerkraut or kimchi) and ice-creams